Dale and Florence Youree have been barrel racing since their marriage in 1950. Florence is the 1966 All Around GRA (Now called the WPRA) World Champion. Florence was also the 1993 Coca-Cola Woman of the year for her contributions to the sport of rodeo. Dale has won such honors as being the first Old Fort Days Futurity winner in 1978 and has been back to the winner's circle many times. He has also won numerous Barrel Futurities of America Championships and won the 2002 Oklahoma Senior Barrel Racing Championship. Dale is an AQHA Congress World Barrel Racing Champion and a two-time AQHA World Barrel Racing Champion. To date, the Youree Ranch has earned more barrel racing championships than most people would ever dream of winning in their entire lifetime. In 1977, their daughter Renee married James Ward. The entire family has joined together to create a barrel racing powerhouse in Oklahoma.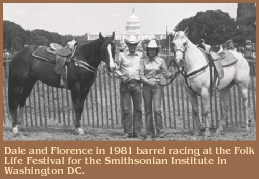 Like Dale, James has seen many barrel futurity championships including the 1984 BFA Championship on Van Eagles Little Dude. The following year, Renee qualified for the NFR on the same horse. Renee won the Congress two times and was a member of the Copenhagen Pro Rodeo Team. James also won the 1989 BFA Championship on Assured Profit. Youree Ranch is very involved in local barrel racing as well as being one of the founders of the Barrel Futurities of America.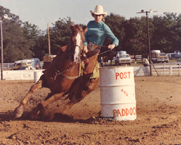 Florence Youree
The granddaughters of Florence and Dale Youree are also taking the barrel racing world by storm. Janae Ward-Massey was the 1998 and 1999 Oklahoma High School Rodeo Barrel Racing Champion, 1999 National High School Champion Barrel Racer, and the 2001 College National Champion. She also made the National Finals Rodeo 3 consecutive years (2001, 2002, 2003.) Janae won the World Title in 2003. Cassie Ward-Ambrose was the 2005 and 2007 Oklahoma High School Rodeo Association Barrel Racing Champion, 2007 OHSRA All Around Champion, 4-time National High School Finals Rodeo Qualifier, 2008 and 2009 United Professional Rodeo Association All Around Champion, 2009 and 2010 Southwest Region Intercollegiate All Around Champion, 3-time College National Finals Rodeo Qualifier. Kylie Ward-Weast is a 2-time National High School Finals Rodeo Qualifier, 2007 Oklahoma High School State Finals Barrel Racing Champion, 3-time College National Finals Rodeo Barrel Racing Qualifier, 2009 Sherry Lynn Johnson Barrel Racing Champion, and made the National Finals Rodeo in 2018 where she had the fastest time of all 10 rounds. In 2019 she was Reserve Champion Barrel Racer at the RFD-TV The American.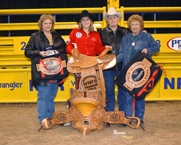 Janae with Mom, Dale, and Florence Youree in the winner's circle at the 2003 NFR.
Florence Youree has recently been inducted, as a 1996 Honoree, into the National Cowgirl Hall of Fame and Western Heritage Center.
In 2009, Florence Youree was inducted into the National Rodeo Hall of Fame at the National Cowboy and Western Heritage Museum.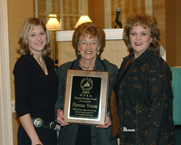 Janae Ward, Florence Youree accepting the Heritage Award from the WPRA, and Renee Ward.
In 2019, Florence Youree was inducted into the Pro Rodeo Hall of Fame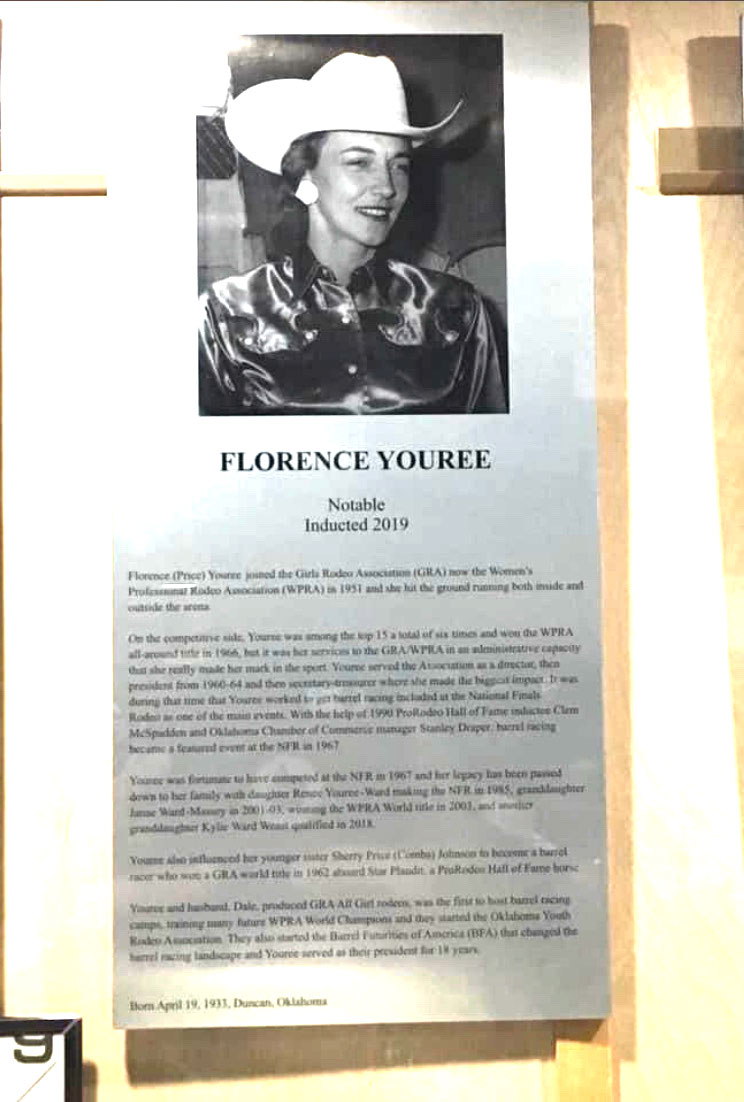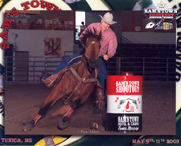 Dale Youree